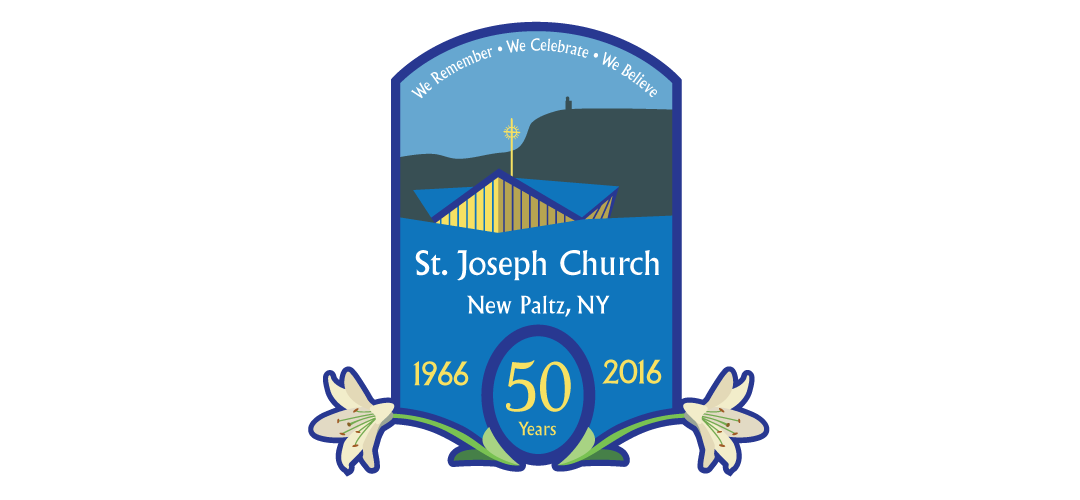 While I was attending SUNY New Paltz for my Bachelor's degree, I attended mass at St. Joseph Church down the hill from campus. When I read in the bulletin that 2016 would be the parish's 50th anniversary, I decided to volunteer my design skills and create a logo that would be a visual symbol of the year-long celebration.
My main focus of the logo was to connect the parish with the Hudson Valley community and the church's patron saint, Saint Joseph. Only featuring the façade of the church would not be unique enough. I achieved my goal by incorporating the iconic Sky Top Tower and picturesque Mohonk Mountain in the background and added in lily flowers; a familiar symbol associated with St. Joseph.
The logo was well received by the pastor Fr. Sal Cordaro and the entire congregation. The parish was extremely impressed and grateful for this gift. It was used throughout 2016 in church publications including the weekly bulletin and commemorative anniversary yearbook. Though I was only a temporary parishioner for 2 years, I will forever be apart of the St. Joseph family.